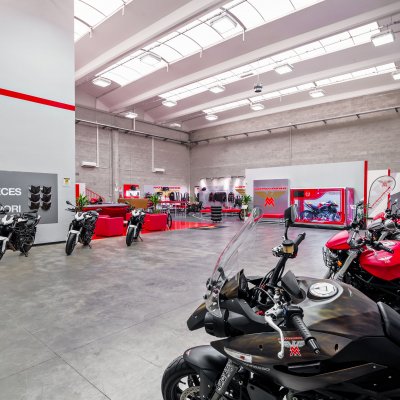 Moto Morini Official Trivolzio
Sale of motorcycle spare parts and accessories 
Moto Morini Official Trivolzio
It was back in 1937 when Alfonso Morini founded our company: he was a very fast rider but also a good mechanic and a skilled designer, able to create winning race motorcycles that were also reliable on the road. Like the 250 Bialbero, which was the world's fastest single-cylinder. Or the 125 Competizione on which Umberto Masetti won the national title. This resulted in the 175, the standard model that rookie rider Giacomo Agostini chose as his first racing bike.

The history of Moto Morini continues and the myth has remained intact, in the memories of those who dreamed about riding the 3 ½, driven by the V-Twin 72° longitudinal engine designed by Franco Lambertini, and those whom today can enjoy the indomitable character of the Bialbero 1200 CorsaCorta, designed by the same engineer who set out to bring back some of the concepts of the historic engine.

Today, the company moved from Bologna to Trivolzio, between Milan and Pavia, to a 3,500 square metres modern and efficient structure where each Morini is assembled by hand, starting with its engine. Each model is built on request and following the specifications of the person who has ordered it. While waiting for the finished product they can follow the assembly process in person or remotely. Craftsmanship and Italian style are the two foundations of every Moto Morini.
DETAILS